Precision Investment Casting Foundry with CNC Machining Services in China
Almost most of the ferrous and nonferrous metal and alloys could be cast by investment casting process. But, at our lost wax casting foundry, we mainly cast the carbon steel, alloy steel, stainless steel, super duplex stainless steel, gray cast iron, ductile cast iron, aluminium alloys and brass. Additionally, certain applications require the use of specialized other alloys used primarily in harsh environments. These alloys, such as Titanium and Vanadium, meet the additional demands that might not be achieved with standard Aluminum alloys. For example, Titanium alloys often are used to produce turbine blades and vanes for aerospace engines. Cobalt-base and Nickel-base alloys (with a variety of secondary elements added to achieve specific strength-strength, corrosion-strength and temperature-resistant properties), are additional types of cast metals.
Investment Casting Technical Data at RMC Foundry

R & D
Software: Solidworks, CAD, Procast, Pro-e
Lead Time for Development and Samples: 25 to 35 days
Molten Metal
Ferritic Stainless Steel, Martensitic Stainless Steel, Austenitic stainless steel, Precipitation Hardening Stainless Steel, Duplex Stainless Steel
Carbon Steel, Alloy Steel, Tool Steel, Heat Resistant Steel,
Nickle-base Alloy, Aluminium Alloy, Copper-base Alloy, Cobalt-base Alloy
Metal Standard
ISO, GB, ASTM, SAE, GOST EN, DIN, JIS, BS
Material for Shell Building
Silica Sol (Precipitated Silica )
Water Glass (Sodium Silicate)
Mixtures of Silica Sol and Water Glass
Technical Parameter
Piece Weight: 2 gram to 200 kilo gram
Max Dimension: 1,000 mm for Diameter or Length
Min Wall Thickness: 1.5mm
Casting Roughness: Ra 3.2-6.4, Machining Roughness: Ra 1.6
Tolerance of Casting: ISO8062; VDG P690, D1/CT5-7
Tolerance of Machining: ISO 2768-mk/IT6
Inner Core: Ceramic Core, Urea Core, Water Soluble Wax Core
Heat Treatment
Normalizing, Tempering, Quenching, Annealing, Solid Solution, Carburization.
Surface Treatment
Polishing, Sand / Shot Blasting, Zinc Plating, Nickel Plating, Oxidation Treatment, Phosphating, Powder Painting, Geormet, Anodizing
Dimension Testing
CMM, Vernier Caliper, Inside Caliper. Depth Gauge, Height Gauge, Go/No go Gauge, Special Fixtures
Chemical Inspection
Chemical Compostion Analysis (20 chemical elements), Cleanliness Inspection, X-ray Radiographic Inspection, Carbon-Sulfur Analyser. 3.1 Material Certificate is Available
Physical Inspection
Dynamic Balancing, Static Blancing, Mechanical Properties (Hardness, Yield Strength, Tensile Strength), Elongation
Production Capacity
More than 250 tons per month, more than 3,000 tons annually.
Because the ceramic shell is assembled around smooth patterns produced by injecting wax into a polished aluminum die, the final casting finish is excellent. A 125 rms micro finish is standard and even finer finishes (63 or 32 rms) are possible with post-cast secondary finishing operations. Individual metal casting facilities have their own standards for surface blemishes, and facility staffs and design engineers/customers will discuss these capabilities before the tooling order is released. Certain standards depend on a component's end-use and final cosmetic features.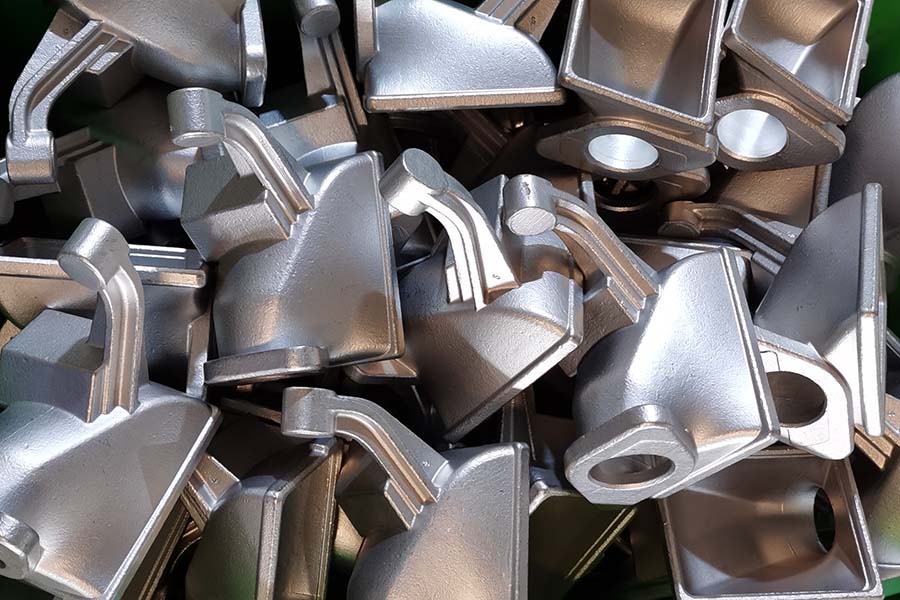 ▶ Raw Materials Available for Investment Casting (Lost Wax Casting Process)
Carbon Steel: AISI 1020 - AISI 1060,

Steel Alloys: ZG20SiMn, ZG30SiMn, ZG30CrMo, ZG35CrMo, ZG35SiMn, ZG35CrMnSi, ZG40Mn, ZG40Cr, ZG42Cr, ZG42CrMo...etc on request.

Stainless Steel: AISI 304, AISI 304L, AISI 316, AISI 316L and other stainless steel grade.

Brass & Copper.

Nickel Base Alloy, Cobalt Base Alloy

Other Materials and Standards on request
▶ Capabilities of Investment Casting
Max Size: 1,000 mm × 800 mm × 500 mm

Weight Range: 0.5 kg - 100 kg

Annual Capacity: 2,000 tons

Bond Materials for Shell Building: Silica Sol, Water Glass and their mixtures.

Tolerances: On Request.
▶ Main Production Procedure
Patterns & Tooling Design → Metal Die Making → Wax Injection → Slurry Assembly → Shell Building → De-Waxing → Chemical Composition Analysis → Melting & Pouring → Cleaning, Grinding & Shot Blasting → Post Processing or Packing for Shipment
▶ Inspecting Lost Wax Castings
Spectrographic and manual quantitative analysis

Metallographic analysis

Brinell, Rockwell and Vickers hardness inspection

Mechanical property analysis

Low and normal temperature impact testing

Cleanliness inspection

UT, MT and RT inspection
▶ Post-Casting Process
Deburring & Cleaning

Shot Blasting / Sand Peening

Heat Treatment: Normalization, Quench, Tempering, Carburization, Nitriding

Surface Treatment: Passivation, Andonizing, Electroplating, Hot Zinc Plating, Zinc Plating, Nickel Plating, Polishing, Electro-Polishing, Painting, GeoMet, Zintec.

Machining: Turning, Milling, Lathing, Drilling, Honing, Grinding.
▶ Why You Choose RMC for Custom Lost Wax Casting Parts?
Full solution from one single supplier ranging customized pattern design to finished castings and secondary process including machining, heat treatment and surface treatment.

Costdown proposals from our professional engineers based on your unique requirement.

Short leadtime for prototype, trial casting and any possible technical improvement.

Bonded Materials: Silica Col, Water Glass and their mixtures.

Manufacturing flexibility for small orders to mass orders.

Strong outsourcing manufacturing capabilities.
▶ General Commerial Terms
Main workflow: Inquiry & Quotation → Confirming Details / Cost Reduction Proposals → Tooling Development → Trial Casting → Samples Approval → Trial Order → Mass Production → Continuous Order Proceeding

Leadtime: Estimatedly 15-25 days for tooling development and estimatedly 20 days for mass production.

Payment Terms: To be negotiated.

Payment methods: T/T, L/C, West Union, Paypal.