OEM Custom Casting Iron Parts by green sand casting and shell mold casting and CNC machining
RMC Casting Foundry can pour iron castings using our no-bake process (furan resin coated sand mold) up to ten tons finished weight in gray iron castings and ductile iron castings, and up to five tons in steel castings and stainless steel castings. RMC can produce casting parts in a wide variety of materials, including grey iron, ductile iron, stainless steel, carbon steel, wear-resistant steel, and heat-resistant steel based on different standards from China and overseas.
Sand Casting Capabilities at RMC Foundry
Description
Molding by hand
Molding by Automatic Machines

Max size of Castings

1,500 mm × 1000 mm × 500 mm

1,000 mm × 800 mm × 500 mm

Casting Weight Range

0.5 kg - 1,000 kg

0.5 kg - 500 kg

Annual Capacity

5,000 tons - 6,000 tons

8,000 tons - 10,000 tons

Casting Tolerance

On Request or Standard (ISO 8062-2013 or GB/T 6414-1999)

Molding Materials

Green Sand, Resin Coated Sand

Casting Metal & Alloys

Gray Iron, Ductile Iron, Cast Steel, Stainless Steel, Al Alloys, Brass, Bronze...etc.
RMC's experience in creating high-end sand castings from high-grade materials and consisting of complex geometries is beyond comparison. In our high-tech facilities, we offer both machine and manual molding operations in our resin sand casting processes. We produce parts in low-to-high volumes and pour castings ranging from 0.5 kgs to 5 tons. Our green sand castings range from 0.5 kgs to 1000 kgs
Our inspection equipment is top-grade. Our Speck spectrometer checks 28 chemical elements. Our metallurgical microscope produces high-resolution images 1,000 times magnified, and our cleanliness meter determines particle size and quantity to ensure materials meet or exceed the international standard. We use ultrasonic detectors to discover flaws, and have X-ray machines and accelerators that can scan castings with 200 mm maximum wall thickness.
Our services are varied and extensive. We offer material advisory service and development, as well as advice from our technical experts on design and casting. We do 3-D CAD drawings, simulations, and component machining. We also offer cavity fill, solidification, tension and distortion services. We provide assembly, testing and qualification, heat treatment, and surface treatment. From start to finish, we have you covered every step of the way.
RMC is dedicated to the quality of our work, and our commitment to excellence ensures the highest customer satisfaction. As a global leader in high-precision, high-complexity, and mission-critical casting and machined components, we strive to meet and exceed the needs of our customers.
Grey cast iron (also called grey cast iron) is a group of cast iron including several kinds of grade according to different designation of diverse standards. Gray cast iron is a kind of iron-carbon alloy and it gets its name "grey" from the fact that their cutting sections looks grey. The metallographic structure of gray cast iron is mainly composed of flake graphite, metal matrix and grain boundary eutectic. During the grey iron, the Carbon is in the flake graphite. As one of the widely used casting metals, cast gray iron has many advangates in costs, castability and machinablity.
Ductile iron refers to cast iron in which the graphite is spherical after the molten iron is treated with a spheroidizing agent. That is why the ductile cast iron is also called spheroidal graphite cast iron or nodular cast iron. Inside the ductile cast iron by electron microsope, the shape of spheroidal graphite is approximately spherical, and its interior is radial shape, and it has obvious polarization effect. The spheroidization rate refers to the percentage of the total number of spherical graphite in a certain range to the total number of graphite. The spheroidization rate is an index to measure the spheroidization grade of nodular cast iron, and it is an important standard in ductile cast iron castings.
▶ Capabilities of Sand Casting moulded by hand:
Max Size of Casting: 1,500 mm × 1000 mm × 500 mm

Weight Range: 0.5 kg - 500 kg

Annual Capacity: 5,000 tons - 6,000 tons

Tolerances: On Request.
▶ Capabilities of Sand Casting by Automatic Molding Machines:
Max Size of Casting: 1,000 mm × 800 mm × 500 mm

Weight Range: 0.5 kg - 500 kg

Annual Capacity: 8,000 tons - 10,000 tons

Tolerances: On Request.
▶ Main Production Procedure
▶ Post-Casting Process
Deburring & Cleaning

Shot Blasting / Sand Peening

Heat Treatment: Normalization, Quench, Tempering, Carburization, Nitriding

Surface Treatment: Andonized, Hot Dip Zinc, Polishing, Painting,

Machining: Turning, Milling, Lathing, Drilling, Honing, Grinding,
▶ General Commerial Terms
Main workflow: Inquiry and Quotation → Confirming Details / Cost Reduction Proposals → Tooling Development → Trial Casting → Samples Approval → Trial Order → Mass Production → Continuous Order Proceeding

Leadtime: Est. 15-25 days for tooling development. Est. 20 days for mass production.

Payment Terms: To be negotiated.

Payment methods: T/T, L/C, West Union, Paypal.
▶ Sand Casting Inspection Capabilities
Spectrographic and manual quantitative analysis

Metallographic analysis

Brinell, Rockwell and Vickers hardness inspection

Mechanical property analysis

Low and normal temperature impact testing

Cleanliness inspection

UT, MT and RT inspection
Our Capacities for Casting and Forging at Rinborn Machinery:
Production Process

Annual Capacity / Tons

Main Materials

Casting Weights

Sand Casting or Resin Sand Coated Shell Casting

6000

Gray Iron, Ductile Iron, Aluminium, Brass

0.3 kg to 200 kg

0.66 lbs to 440 lbs

Lost Foam Casting

4000

Gray Iron, Ductile Iron, Steel Alloys

10 kg to 300 kg

22 lbs to 660 lbs

Investment Casting (Lost Wax Casting)

Water Glass Casting

3000

Carbon Steel, Steel Alloys, Stainless Steel, Brass

0.1 kg to 50 kg

0.22 lbs to 110 lbs

Silica Sol Casting

1000

Carbon Steel, Steel Alloys, Stainless Steel, Brass

0.05 kg to 50 kg

0.11 lbs to 110 lbs

High Pressure Die Casting

500

Aluminium Alloys, Zinc Alloys

0.1 kg to 50 kg

0.22 lbs to 110 lbs

Precision Forging

1000

Carbon Steel, Steel Alloys, Stainless Steel, Aluminium Alloys

0.1 kg to 50 kg

0.22 lbs to 110 lbs
▶ What Casting Tolerances Could Your Sand Castings Achieve?
The casting tolerances are divided into Dimensional Casting Tolerances (DCT) and Geometrical Casting Tolerances (GCT). Our foundry would like to talk with you if you have special request on the required tolerances. Here in the following are the general tolerances grade we could reach by our green sand casting, shell mould casting and no-bake furan resin sand casting according to ISO 8062:
DCT Grade by Green Sand Casting: CTG10 ~ CTG13

DCT Grade by Shell Mold Casting or Furan Resin Sand Casting: CTG8 ~ CTG12

GCT Grade by Green Sand Casting: CTG6 ~ CTG8

GCT Grade by Shell Mold Casting or Furan Resin Sand Casting: CTG4 ~ CTG7
Sand Casting Facilities at Rinborn Machinery: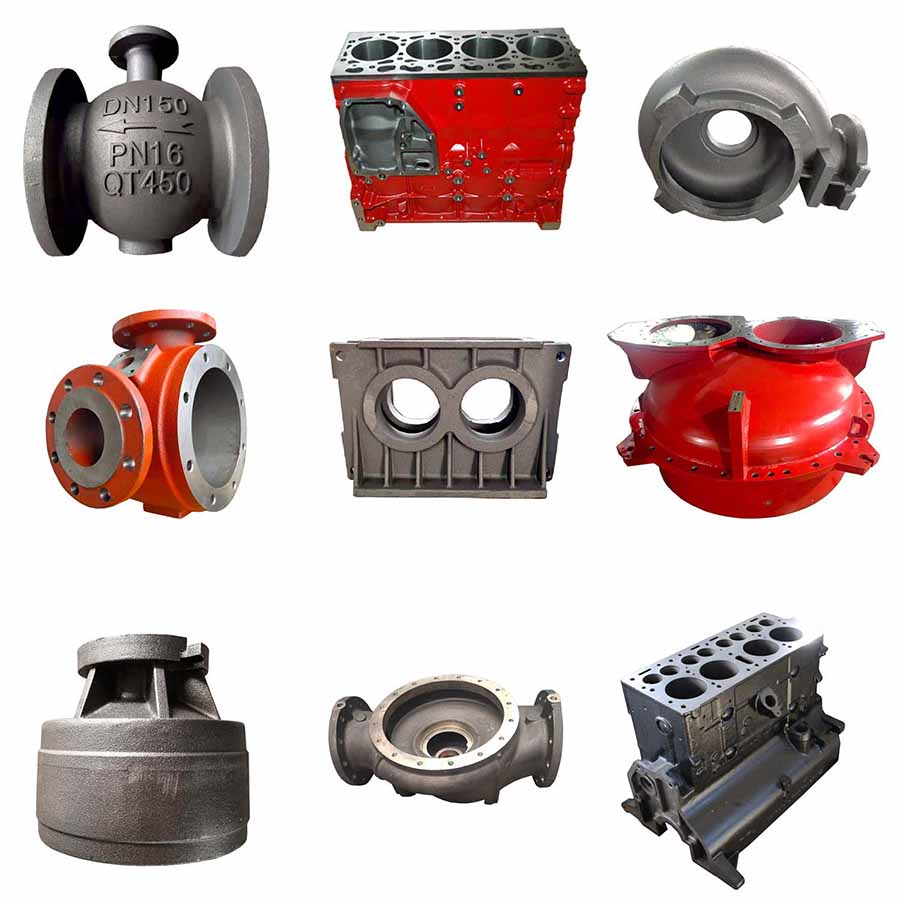 For more information on how to produce this OEM custom cast iron part, please visit Our Sand Casting Capabillities or Send Email to us directly.