China Brass Sand Casting Company with Custom Servcies and CNC Precision Machining Services.

A copper alloy with zinc as the main alloying element is usually called brass. Copper-zinc binary alloy is called ordinary brass, and ternary, quaternary or multi-element brass formed by adding a small amount of other elements on the basis of copper-zinc alloy is called special brass. Cast brass is used to produce brass for castings. Brass castings are widely used in machinery manufacturing, ships, aviation, automobiles, construction and other industrial sectors, occupying a certain weight in heavy non-ferrous metal materials, forming cast brass series.

Compared with brass and bronze, the solid solubility of zinc in copper is very large. Under normal temperature equilibrium, about 37% of zinc can be dissolved in copper, and about 30% of zinc can be dissolved in the as-cast state, while tin bronze In the as-cast state, the mass fraction of solid solubility of tin in copper is only 5% to 6%. The mass fraction of solid solubility of aluminum bronze in copper is only 7% to 8%. Therefore, zinc has a good solid solution strengthening effect in copper. At the same time, most alloying elements can also be dissolved in brass to varying degrees , Further improve its mechanical properties, so that brass, especially some special brass has the characteristics of high strength. The price of zinc is lower than that of aluminum, copper, and tin, and it is rich in resources. The amount of zinc added to brass is relatively large, so the cost of brass is lower than tin bronze and aluminum bronze. Brass has a small solidification temperature range, good fluidity, and convenient smelting.

Because brass has the above-mentioned characteristics of high strength, low price and good casting performance, brass has more varieties, larger output and wider application than tin bronze and aluminum bronze in copper alloys. However, the wear resistance and corrosion resistance of brass are not as good as bronze, especially the corrosion resistance and wear resistance of ordinary brass are relatively low. Only when some alloy elements are added to form various special brass, its wear resistance and resistance Corrosion performance has been improved and improved.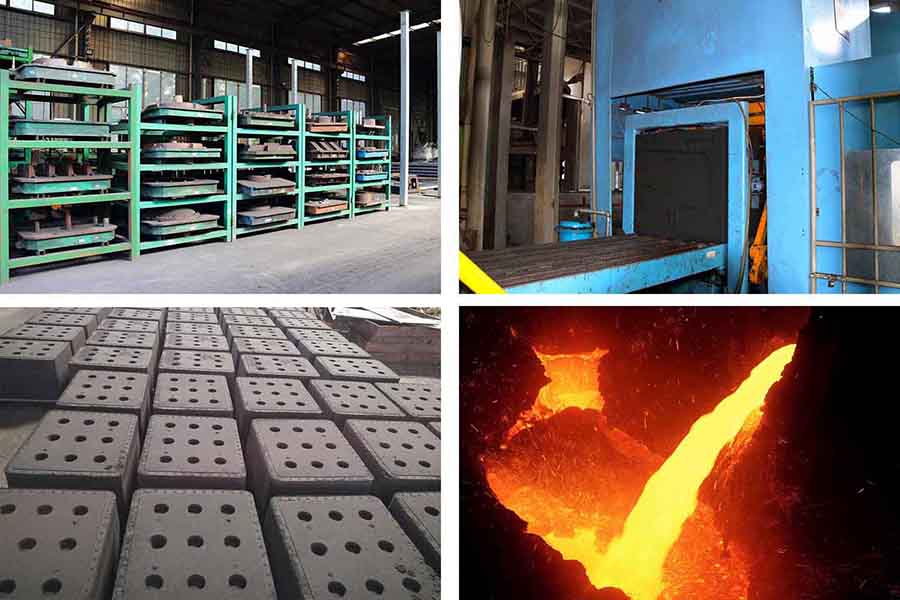 ▶ Capabilities of Sand Casting moulded by hand:
• Max Size: 1,500 mm × 1000 mm × 500 mm
• Weight Range: 0.5 kg - 500 kg
• Annual Capacity: 5,000 tons - 6,000 tons
• Tolerances: On Request or Standard
• Mold Materials: Green Sand Casting, Shell Mold Sand Casting.

▶ Capabilities of Sand Casting by Automatic Molding Machines:
• Max Size: 1,000 mm × 800 mm × 500 mm
• Weight Range: 0.5 kg - 500 kg
• Annual Capacity: 8,000 tons - 10,000 tons
• Tolerances: On Request.
• Mold Materials: Green Sand Casting, Shell Mold Sand Casting.

▶ Materials Available for Sand Casting Foundry at RMC:
• Brass, Red Copper, Bronze or other Copper-based alloy metals: ZCuZn39Pb3, ZCuZn39Pb2, ZCuZn38Mn2Pb2, ZCuZn40Pb2, ZCuZn16Si4
• Gray Iron: HT150, HT200, HT250, HT300, HT350; GJL-100, GJL-150, GJL-200, GJL-250, GJL-300, GJL-350; GG10~GG40.
• Ductile Iron or Nodular Iron: GGG40, GGG50, GGG60, GGG70, GGG80; GJS-400-18, GJS-40-15, GJS-450-10, GJS-500-7, GJS-600-3, GJS-700-2, GJS-800-2; QT400-18, QT450-10, QT500-7, QT600-3, QT700-2, QT800-2;
• Aluminium and Their Alloys
• Other Materials as per your unique requirements or according to ASTM, SAE, AISI, ACI, DIN, EN, ISO, and GB standards