Cast Steel Investment Cast Parts with CNC Precision Machining Services
During the investment casting, a wax pattern, or cluster of patterns, is dipped into ceramic material several times to build a thick shell and then form the casting molds. De-wax process is then followed by the shell dry process. The wax-less ceramic shell is then produced. Molten metal is then poured into the ceramic shell cavities or cluster, and once solid and cooled, the ceramic shell is broken off to reveal the final cast metal object. Precision investment castings can achieve exceptional accuracy for both small and large casting parts in a wide range of materials.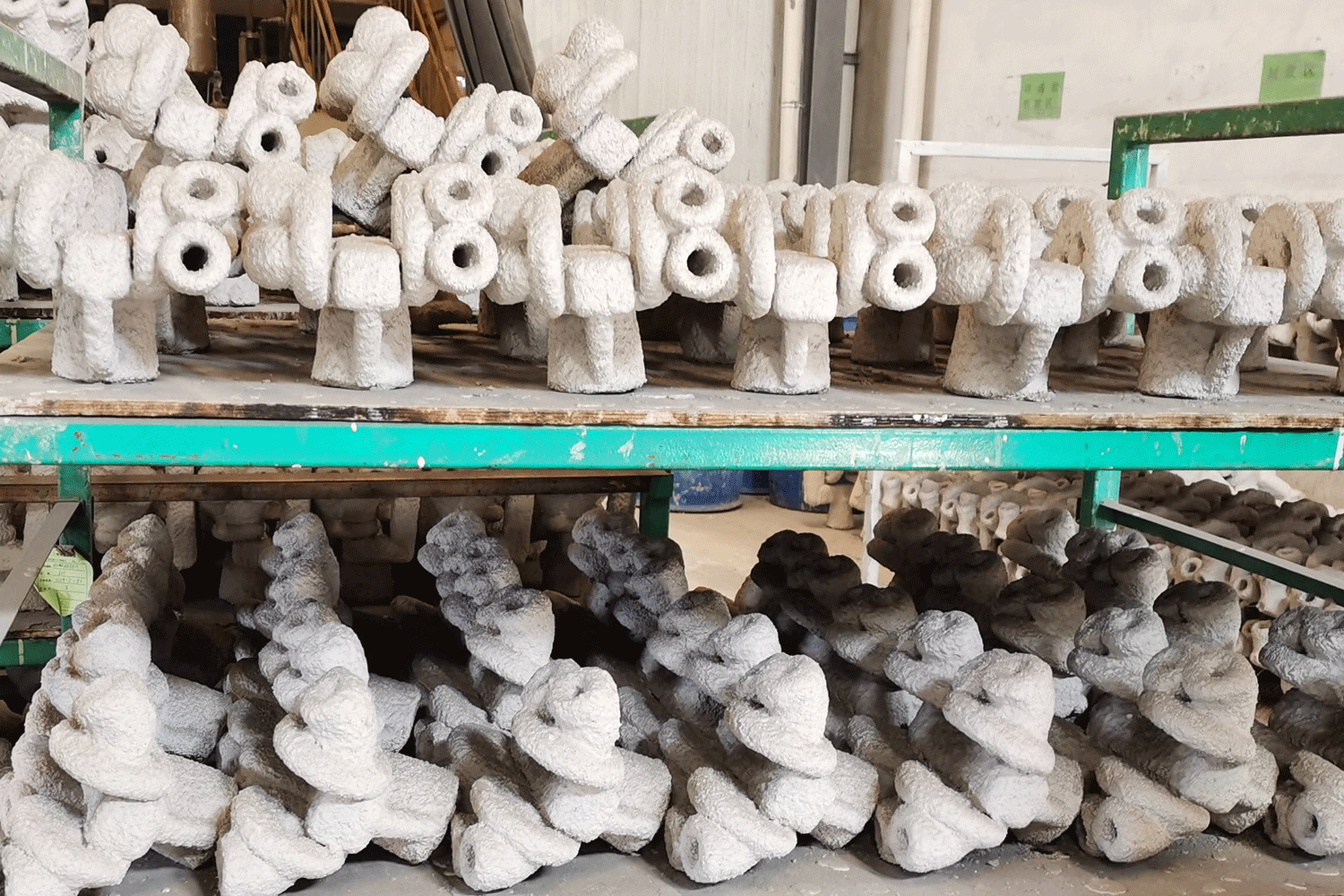 Investment Casting Technical Data at RMC Foundry
R & D
Software: Solidworks, CAD, Procast, Pro-e
Lead Time for Development and Samples: 25 to 35 days
Molten Metal
Ferritic Stainless Steel, Martensitic Stainless Steel, Austenitic stainless steel, Precipitation Hardening Stainless Steel, Duplex Stainless Steel
Carbon Steel, Alloy Steel, Tool Steel, Heat Resistant Steel,
Nickle-base Alloy, Aluminium Alloy, Copper-base Alloy, Cobalt-base Alloy
Standard of Specifications
ISO, GB, ASTM, SAE, GOST EN, DIN, JIS, BS
Material for Shell Building
Silica Sol (Precipitated Silica )
Water Glass (Sodium Silicate)
Mixtures of Silica Sol and Water Glass
Technical Parameter
Piece Weight: 2 gram to 200 kilo gram
Max Dimension: 1,000 mm for Diameter or Length
Min Wall Thickness: 1.5 mm
Casting Roughness: Ra 3.2-6.4, Machining Roughness: Ra 1.6
Tolerance of Casting: ISO 8062 CT4 ~ CT7; VDG P690, D1/CT5-7
Tolerance of Machining: ISO 2768-mk/IT6
Inner Core: Ceramic Core, Urea Core, Water Soluble Wax Core
Heat Treatment
Normalizing, Tempering, Quenching, Annealing, Solution, Carburization.
Surface Treatment
Polishing, Sand / Shot Blasting, Zinc Plating, Nickel Plating, Oxidation Treatment, Phosphating, Powder Painting, Geormet, Anodizing
Dimension Testing
CMM, Vernier Caliper, Inside Caliper. Depth Gage, Height Gage, Go/No go Gage, Special Fixtures
Chemical Inspection
Chemical Compostion Analysis (20 chemical elements), Cleanliness Inspection, X-ray Radiographic Inspection, Carbon-Sulfur Analyser
Physical Inspection
Dynamic Balancing, Static Blancing, Mechanical Properties (Hardness, Yield Strength, Tensile Strength), Elongation
Production Capacity
More than 250 tons per month, more than 3,000 tons annually.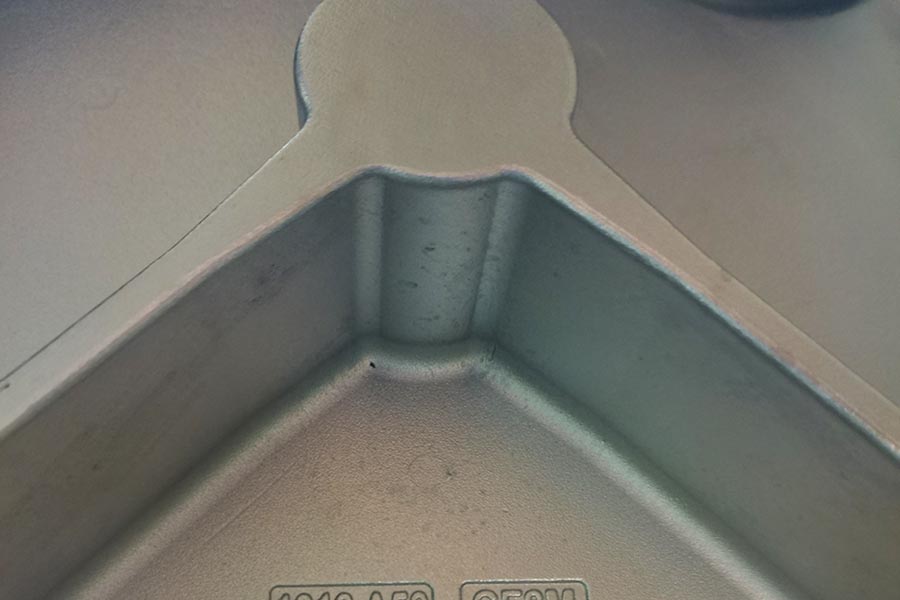 The investment casting parts could be made by silica sol process and water glass process at RMC. Our rich experience could help our colleagues produce the good parts with competitive costs. As a precision casting process, the shell making is a very critical process during investment casting. The quality of the shell is directly related to the roughness and dimensional tolerance of the final casting. Therefore, it is an important task for the investment casting foundry to choose a suitable manufacturing method for the mold shell. According to different adhesives, investment casting molds can be divided into water glass adhesive shells, silica sol adhesive shells, ethyl silicate adhesive shells and ethyl silicate-silica sol composite shells. These modeling methods are the most commonly used methods in investment casting.

Water Glass Shell
The investment casting produced by the water glass shell casting has high surface roughness, low dimensional accuracy, short shell-making cycle and low price. This process is widely used in casting carbon steel, low alloy steel, aluminum alloy and copper alloy.

Silica Sol Shell
The silica sol investment casting has low roughness, high dimensional accuracy, and long shell-making cycle. This process is widely used in high-temperature heat-resistant alloy castings, heat-resistant steel castings, stainless steel castings, carbon steel castings, low alloy castings, aluminum alloy castings and copper alloy castings.

Ethyl Silicate Shell
In investment casting, castings made by using ethyl silicate as a binder to make the shell have low surface roughness, high dimensional accuracy, and a long shell-making cycle. This process is widely used in heat-resistant alloy castings, heat-resistant steel castings, stainless steel castings, carbon steel castings, low alloy castings, aluminum alloy castings and copper alloy castings.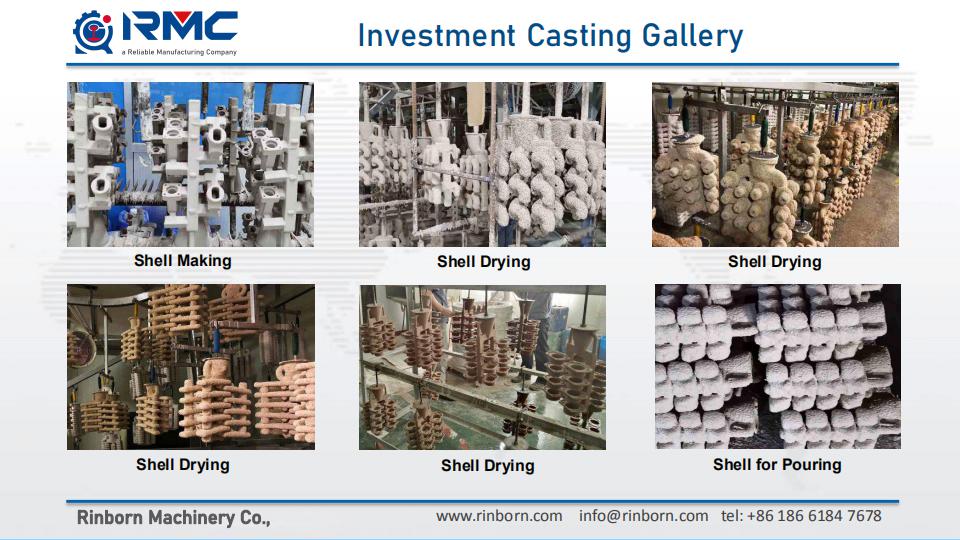 ▶ Raw Materials Available for Lost Wax Investment Casting
Carbon Steel: AISI 1020 - AISI 1060,

Steel Alloys: ZG20SiMn, ZG30SiMn, ZG30CrMo, ZG35CrMo, ZG35SiMn, ZG35CrMnSi, ZG40Mn, ZG40Cr, ZG42Cr, ZG42CrMo...etc on request.

Stainless Steel: AISI 304, AISI 304L, AISI 316, AISI 316L and other stainless steel grade.

Brass & Copper.

Other Materials and Standards on request
▶ Capabilities of Steel Investment Casting
Maximum Size of Casting : 1,000 mm × 800 mm × 500 mm

Weight Range of Steel Castings: 0.5 kg - 100 kg

Annual Capacity: 2,000 tons

Tolerances: On Request or according to ISO 8062
▶ Main Production Procedure
Patterns and Tooling Design → Metal Die Making → Wax Injection → Slurry Assembly → Shell Building → De-Waxing → Chemical Composition Analysis → Melting and Pouring → Cleaning, Grinding & Shot Blasting → Post Processing or Packing for Shipment
▶ Inspecting Steel Lost Wax Castings
Spectrographic and manual quantitative analysis

Metallographic analysis

Brinell, Rockwell and Vickers hardness inspection

Mechanical property analysis

Low and normal temperature impact testing

Cleanliness inspection

UT, MT and RT inspection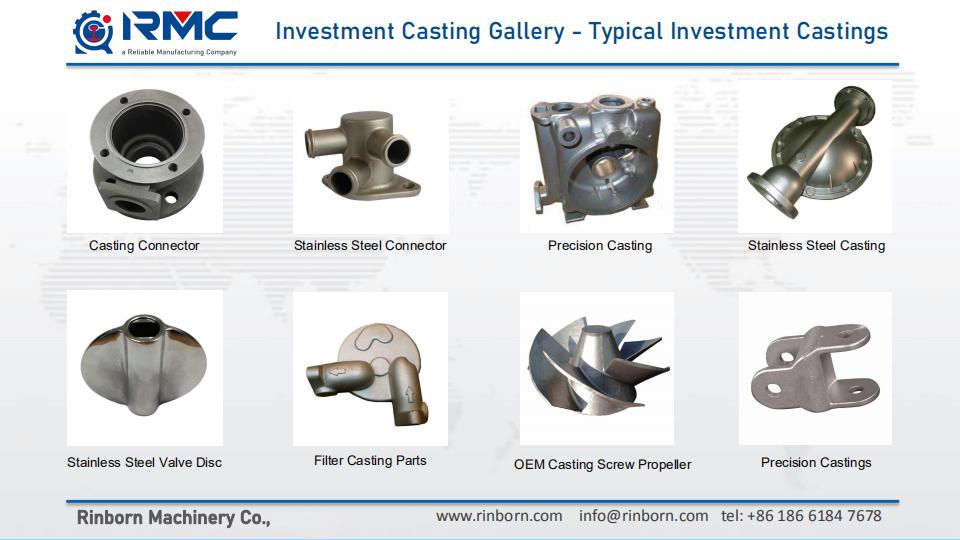 ▶ Post-Casting Process
Deburring & Cleaning

Shot Blasting / Sand Peening

Heat Treatment: Normalization, Quench, Tempering, Solid Solution, Carburization, Nitriding

Surface Treatment: Passivation, Andonizing, Electroplating, Hot Zinc Plating, Zinc Plating, Nickel Plating, Polishing, Electro-Polishing, Painting, GeoMet, Zintec.

Machining: Turning, Milling, Lathing, Drilling, Honing, Grinding.
▶ Why You Choose RMC for Custom Alloy Steel Lost Wax Casting Parts?
Full solution from one single supplier ranging customized pattern design to finished castings and secondary process including machining, heat treatment and surface treatment.

Costdown proposals from our professional engineers based on your unique requirement.

Short leadtime for prototype, trial casting and any possible technical improvement.

Bonded Materials: Silica Col, Water Glass and their mixtures.

Manufacturing flexibility for small orders to mass orders.

Strong outsourcing manufacturing capabilities.
▶ General Commerial Terms
Main workflow: Inquiry & Quotation → Confirming Details / Cost Reduction Proposals → Tooling Development → Trial Casting → Samples Approval → Trial Order → Mass Production → Continuous Order Proceeding

Leadtime: Estimatedly 15-25 days for tooling development and estimatedly 20 days for mass production.

Payment Terms: To be negotiated.

Payment methods: T/T, L/C, West Union, Paypal.
Investment Casting Material Capabilities at RMC Foundry

Martensitic Stainless Steel

100 Series: ZG1Cr13, ZG2Cr13 and more

Ferritic stainless steel

200 Series: ZG1Cr17, ZG1Cr19Mo2 and more

Austenitic stainless steel

300 Series: 304, 304L, CF3, CF3M, CF8M, CF8, 1.4304, 1.4401...etc.

Duplex Stainless Steel

400 Series: 1.4460, 1.4462, 1.4468, 1.4469, 1.4517, 1.4770; 2205, 2507

Precipitation Hardening Stainless Steel

500 Series: 17-4PH, 15-5PH, CB7Cu-1; 1.4502

Carbon Steel

C20, C25, C30, C45; A216 WCA, A216 WCB,

Low Alloy Steel

IC 4140, IC 8620, 16MnCr5, 42CrMo4

Super Alloy and Special Alloys

Heat Resistant Steel, Wear Resistant Steel, Tool Steel,

Aluminum Alloy

A355, A356, A360, A413

Copper Alloy

Brass, Bronze. C21000, C23000, C27000, C34500, C37710, C86500, C87600, C87400, C87800, C52100, C51100

RMC can meet material specification acc. to ASTM, SAE, AISI, ACI, DIN, EN, ISO, GB standards.
Wax patterns during the lost wax casting process: